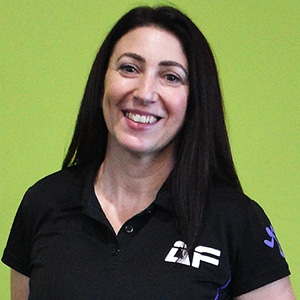 Kirstan Harrison
Level #2
I have been into health and fitness for most of my life and become a personal trainer to help others to discover the best version of themselves as it seemed like a naturel path for me. My fitness journey has seen me do a variety of things including a gymnast, dancer, Les Mills fanatic, a member of the Bunbury runners club, Boot camp & Strength training.
I've trained with Commando Steve for a weekend of Military style training and done a SAS Cadre camp.
I've done a lot of Mud runs over the years – Tough Mudder, True Grit type Obstacle course. Currently I am doing Crossfit and have completed in numerous Crossfit competitions. Health and Fitness in a lifestyle for me and the only time I have occasionally not felt my age is when I've not been active and ate poorly.
Interests
I love my family, so time with them is a big priority in my life. Eating out for breakfast, because it's my fav meal. But lunch at a winery is just as good. I love adventures just as much as I love hammock and a good book in the sun.
Qualifications
Specialty
Metabolic conditioning : Metcons & Hiit
Something you don't know about me
I dunk my chock bomb in the popcorn at the cinema's.
Photo